Product Description
Autel MaxiCOM MK808 offers 28+ special service, OE full system diagnoses, cloud service and active test, which makes it your perfect companion. Installed with a fast quad-core processor, MK808 offers maximum convenience and swift diagnosis. The intuitive user interface makes using the device effortless via a 7-inch LCD touch screen that displays at 1024x600 resolution.
Skip those often very expensive OE-level scanners, the affordable MK808 presents a rich bag of features for you to enjoy.
Autel Original MaxiCOM MK808 Diagnostic Tool 7-inch LCD Touch Screen Swift Diagnosis Functions of EPB/IMMO/DPF/SAS/TMPS
Product Features:
NEW! Compatible with Videoscope
NEW! Support active test and complete special functions
Read/clear codes for all available systems
Display live data in text, graph & analog for easy data review
Auto VIN technology can automatically identify the vehicle's make, model and year information in no time
Relearn parking brake pad after replacement
Support IMMO functions
Support forced DPF regeneration and adjusting injectors
Reset Steering Angle Sensor (SAS)
Reset service mileage and service intervals
Support TPMS sensor relearn
Support battery registration and reset
Warranty/Update: Full one-year warranty including all online updates and 24/7 thoughtful technical support. Updates can improve the MaxiCOM capabilities and application functionality
Multi-Language: English, German, Spanish, Portuguese, Dutch, French, Italian.Korean, Russian ,Polish,Swedish for optional . after you make order, please contact with seller about the language.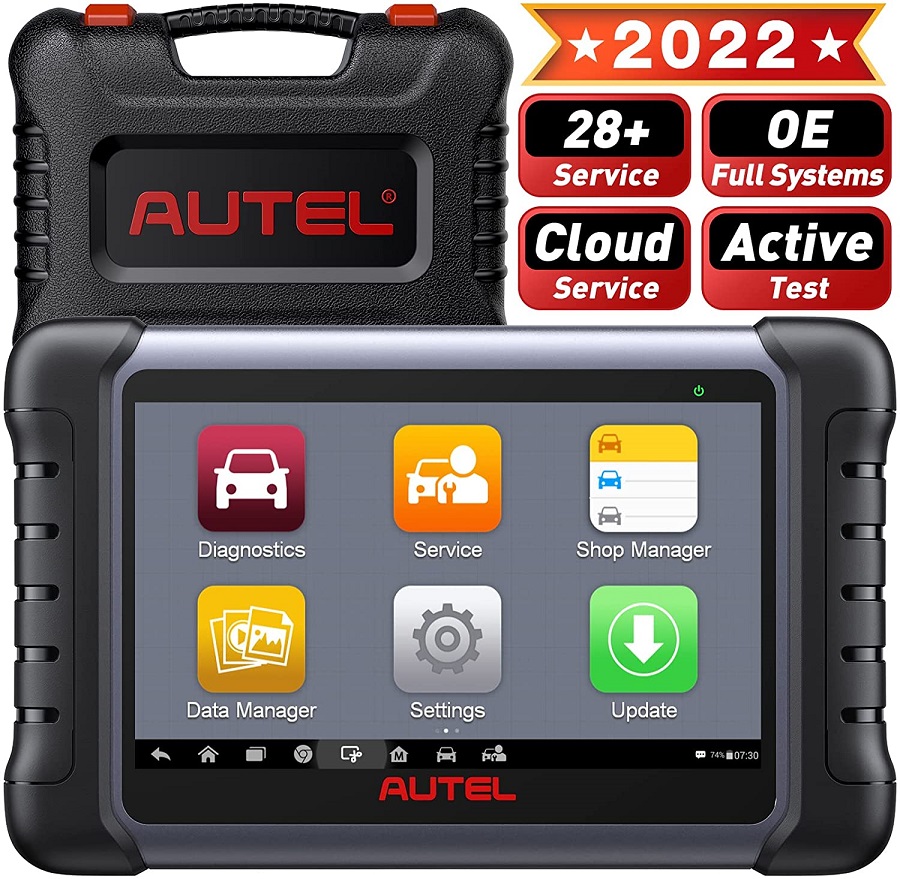 Product Highlights:
Bi-Directional Control – Precisely Locate Car Problems
In order to provide professional mechanics a real flagship scanner, Since 1st June 2022, Autel MaxiCOM MK808 is equipped with advanced bi-directional(active test) which could only for expensive auto scanners.
Featuring bi-directional control, this Autel intelligent diagnostic tool – Autel automotive scanner MK808, can output the commands to ECUs, read the ECU data and monitor the operation of the actuators. Through active tests, also called actuator tests, this bi-directional diagnostic scanner can precisely locate the car problems, letting you quickly know whether a specific system, component, or subsystem is functioning properly or not.
For example, If a fuel pump is not working and leads to ignition failure, it could be a faulty pump, wiring, relay, or command. By turning the fuel pump on and off via the MK808 scanner, you can quickly determine whether it's a wiring, relay, or pump issue without removing any parts.
Here are some other examples of active tests, which help you locate faults in the shortest time, saving time on troubleshooting.
Cycle the a/c clutch on and off;
Switch the interior lights on and off;
Perform an evaporative emissions leak test;
Active tests for inside mirrors, exterior mirrors (high version only), adaptive headlamp, steering wheel heating, windows, wash/wipe system, horn, reset starter lock, etc.
2022 New Function AutoAuth Access: Bypass SGM in FCA Vehicles
With the newest update on Autel scan tool MK808, you now have access to the security gateway module on 2017 and newer Fiat Chrysler vehicles, so that the diagnostic tool can clear codes, run bi-directional active tests, actuations, relearns or even IMMO key programming (pulls PIN & write), ADAS calibration assistance etc.
Note: Updating to the newest version for getting this new Bidirectional Control and AutoAuth Access.
Retrieve ECU information of the tested control units including unit type, version numbers, and other specifications, etc.
Read & erase DTCs to locate problem areas and clear the codes.
View Live Data of each parameter item.
With it, you can work on all parts of the vehicle systems to enhance the performance, save energy, reduce emissions, etc., and save you the hassle of diagnosing any un-identified car errors you'd ever met.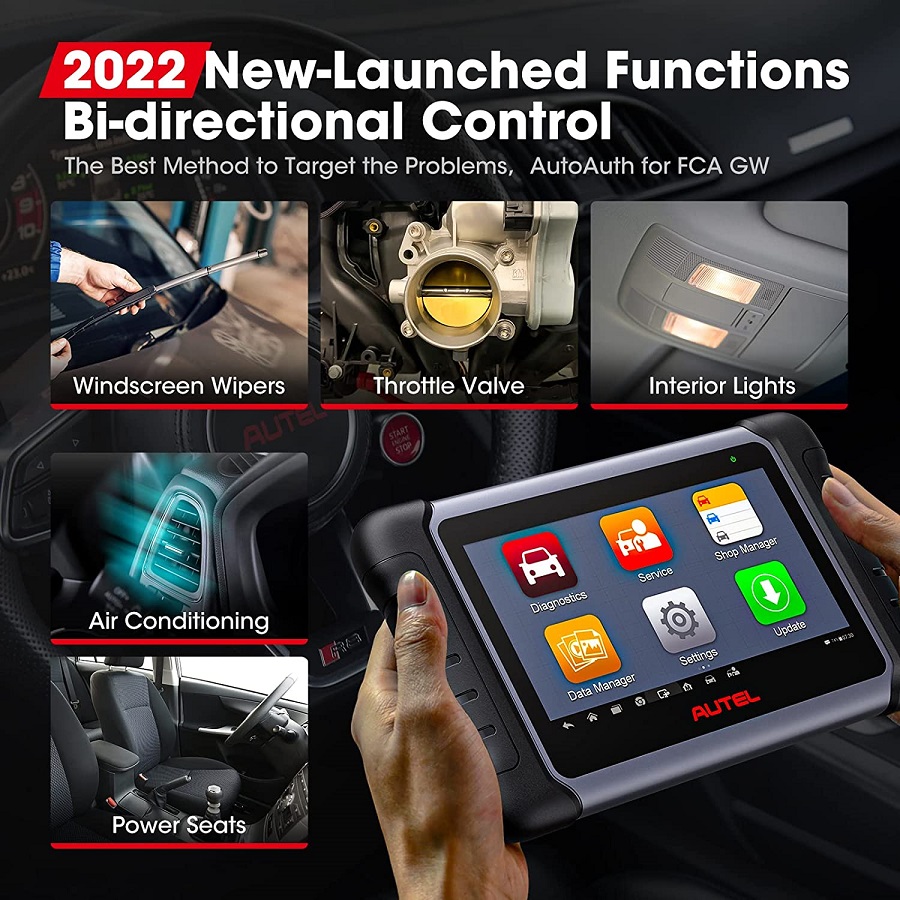 28+ Hot Service Functions, Cover 99% Cars in the Market
The diagnostic tool performs 28+ service functions that every mechanic wants for various scheduled service and maintenance performances. As an advanced diagnostic tool, MK808 has all kinds of services accessible for complete diagnoses and maintenance.
Oil Reset: Turn off the oil light, and reset the service mileage. So you won't forget to change the oil when it's due.
EPB: Remind you to reset the brake pad, especially if you have replaced it.
TPMS: Read TPMS data and point out issues related if there are any.
BMS: Reset a battery after you have replaced it.
Brake Bleed: Keep the tires from locking up immediately when there are brakes.
DPF: Help you clear the blockage in the DPF filter, to meet emission standards.
IMMO Keys: This function is mainly used to disable the lost vehicle keys, and create a new replacement key fob, to protect your car from being stolen.
Injector: Read injector related problems and adjusts them.
SAS: Calibrating and resetting the position of the steering is just a click away.
And Injector coding, Suspension, Throttle, WIN DR ROOF, Seats, Odometer, Lang Change, Headlamp, CHG Tire Zize, TEC Learn, Trans Adaption are all avaiable.
There are a lot more functions waiting for you to explore.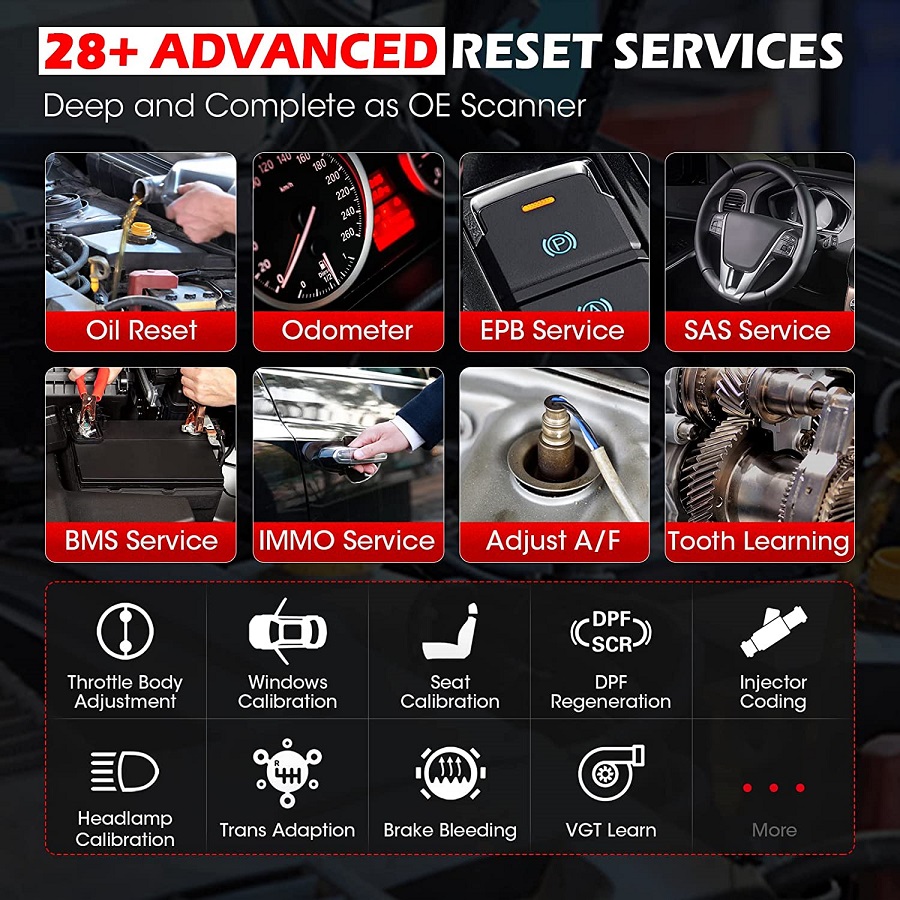 Full/All Systems Diagnoses for Vehicle Health Status Checking
MK808 is a full system diagnostic scanner that can quickly test every system module status and faster diagnosis and maintenance via reading/clearing codes and viewing live data, and only costs you a few minutes to finish full scanning. Brief introduction of its capabilities in full systems diagnoses.
Diagnostic tool MK808 can help detect the engine ignition, fuel injection, air and fuel ratio, and exhaust emission conditions in Engine system to enhance vehicle performance, save energy and reduce exhaust emission.
It makes great sense in the safety driving when your car is slipping or difficult to shift, this diagnostic tool can figure the problems out via reading codes in the Transmission system, or check the health status via live data viewing.
Diagnosing an ABS problem should always start with a visual inspection of all brake components, next you will need to retrieve ABS codes to tell you where the problem is, and this is what this diagnostic does for you.
SRS, safety restraint system, is made up of impact sensors, a control module, and the airbags themselves, and this diagnostic tool can detect every electronic parameter to check its health status.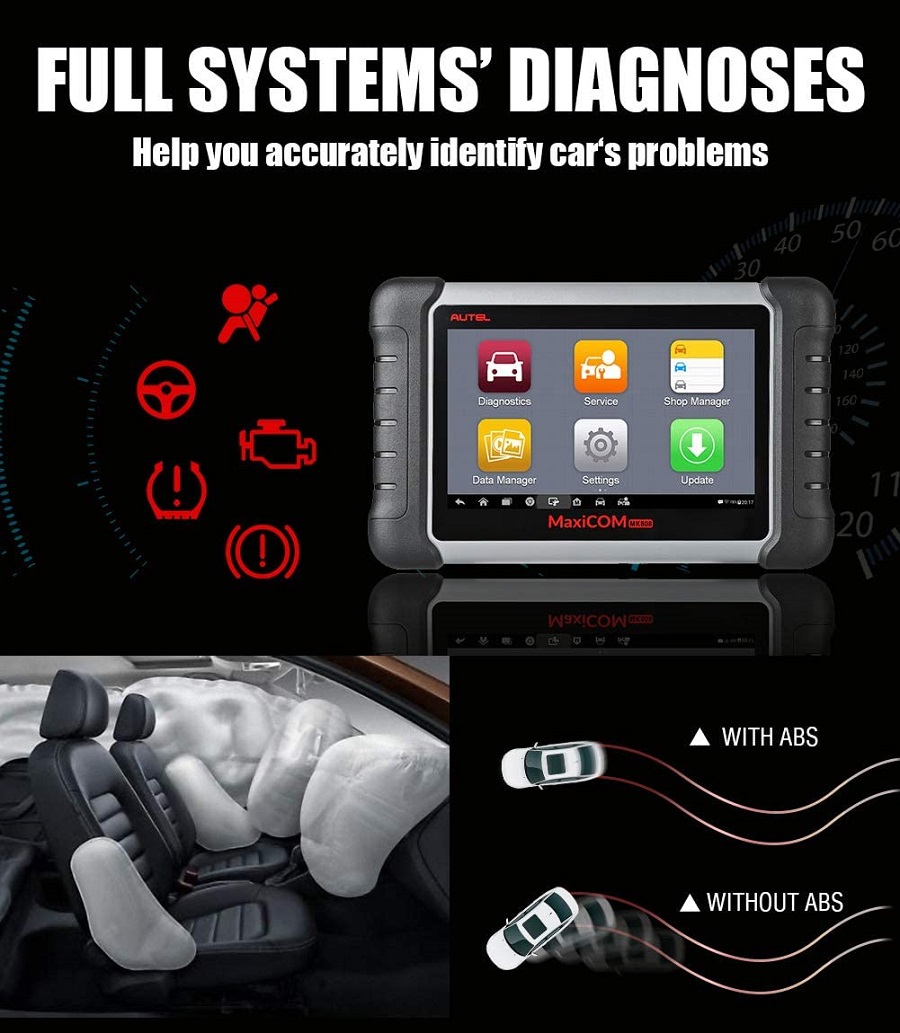 Diagnose All Available Modules
2022 Autel MK808 works well on 80+ car makes and models worldwide (1996 and newer), to read / clear codes, view live data for all available systems using the supported protocols. The detailed report reveals the exact nature of the problem, with possible fixes to help greatly plan the budget for repairs.
IMMO Keys
Each time you lose the key, Autel Maxicom MK808 can add the new key and remotely disable the lost one.
Note:
ONLY
available for Asian vehicles with low-grade anti-theft systems.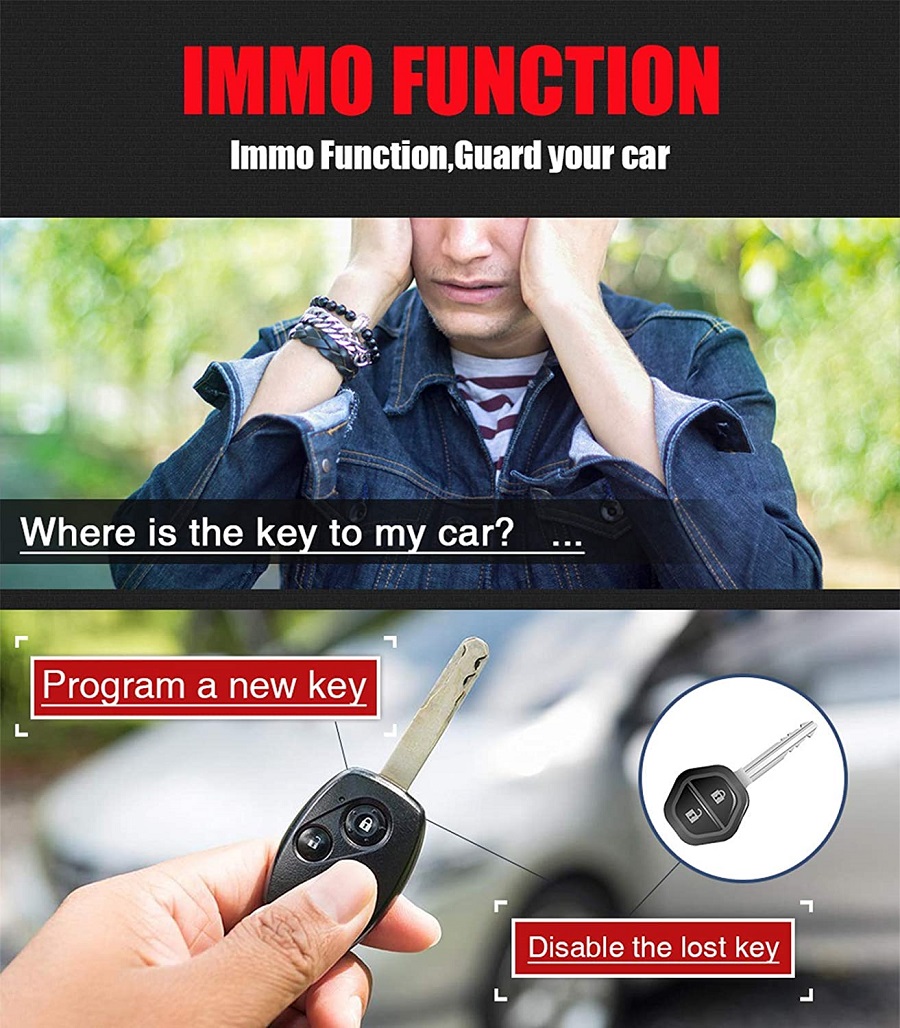 Make the Most of This Tool
As a tablet diagnostic tool, the most competitive advantage of MK808 is its add-on services for the well data arrangement and better using experience.
Shop Manager – Y
ou can well manage the workshop information with 3 available functions within this application: Vehicle History, Workshop Information, and Customer Manager. Intuitively look up the summarized details.
Data Manager –
The best solution for the data related operations, you can store, print, and review the saved files in Image, PDF,Review Data, Apps Uninstall or Data Logging.
Remote Desk –
you can directly get ad-hoc remote support from Autel via Team Viewer software.
Different Choice for Diagnoses
MK808 is suitable for most OBD2 vehicles and support many car brands like Ford, Honda, Chevrolet, Jeep, Toyota, Dodge, GM, Volkswagen, Audi, BMW, Benz, etc.
When it comes to the Non-OBD2 vehicles, you can connect the device with vehicles via adapters (not included) to complete car diagnoses, and the signal connected will be more stable. This diagnostic tool support different kinds of adapter connection.
Global Vehicle Coverage:
Asian and European vehicles after 1996. Utilizes new Auto VIN ID Tech to automatically identify the vehicle's make, model and year without the need for user assistance
Superior Mechanics Assiatant:
In addition to the MaxiCOM standard features and special functions, there are also a host of enhanced features that are specifically designed for common repair shop work: To relearn parking brake pad position after replacement, force fuel injector regeneration and adjustment, battery registration and reset, sensor relearning after repair or replacement.
Product Specifications:
Recommended Use
Indoor
Operating System
AndroidTM 4.4.4
Processor
Cortex-A9 processor (1.5 GHz)
Memory
32GB
Display
7-inch LCD capacitive touchscreen with 1024x600 resolution
Connectivity
Mini USB 2.0
USB 2.0
Wi-Fi
Micro SD card (supports up to 32GB)
Sensors
Ambient light sensor for brightness auto adjust
Audio Input/Output
Input: N/A
Output: Beep
Power and Battery
3.7 V/3200 mAh lithium-polymer battery
Charges via 5 VDC power supply
Tested Battery Life
Around 4.5 hours of continuous use
Battery Charging Input
5 V/1.5 A
Power Consumption
500 mA (LCD on with default brightness, Wi-Fi on) @3.7 V
Operating Temp.
0 to 55°C(14 to 131°F)
Storage Temp.
-20 to 60°C (-4 to 140°F)
Operating Humidity
5% - 95% non-condensing
Dimensions (W x H x D)
237.8 mm (9.4") x 148.6 mm (5.9") x 35.5 mm (1.4")
Net Weight
788 g (2.42 lb.)
Supported Automotive Protocols
ISO9141-2, ISO14230-2,ISO15765, K/L-Line, Flashing Code, SAE-J1850 VPW, SAE-J1850 PWM, ISO11898(Highspeed, Middlespeed, Lowspeed and Singlewire CAN, fault-tolerant CAN), SAE J2610, GM UART, UART Echo Byte Protocol, Honda Diag-H Protocol, TP2.0, TP1.6
Except its widely-used software, the advanced hardware also brings glory to its smooth and fast operation.
Android-based tablet diagnostic tool greatly improves the working efficiency with performance and power optimized multi-core processor.
7 inch touchable LCD screen does a great job in the better using experience; you can directly get what you need with intuitive navigation.
32 GB memory is not only an extended storage space but a way to reduce the possible condition of slow response.
Built-in battery has up to 4.5 hours battery life giving you a worry free operation experience.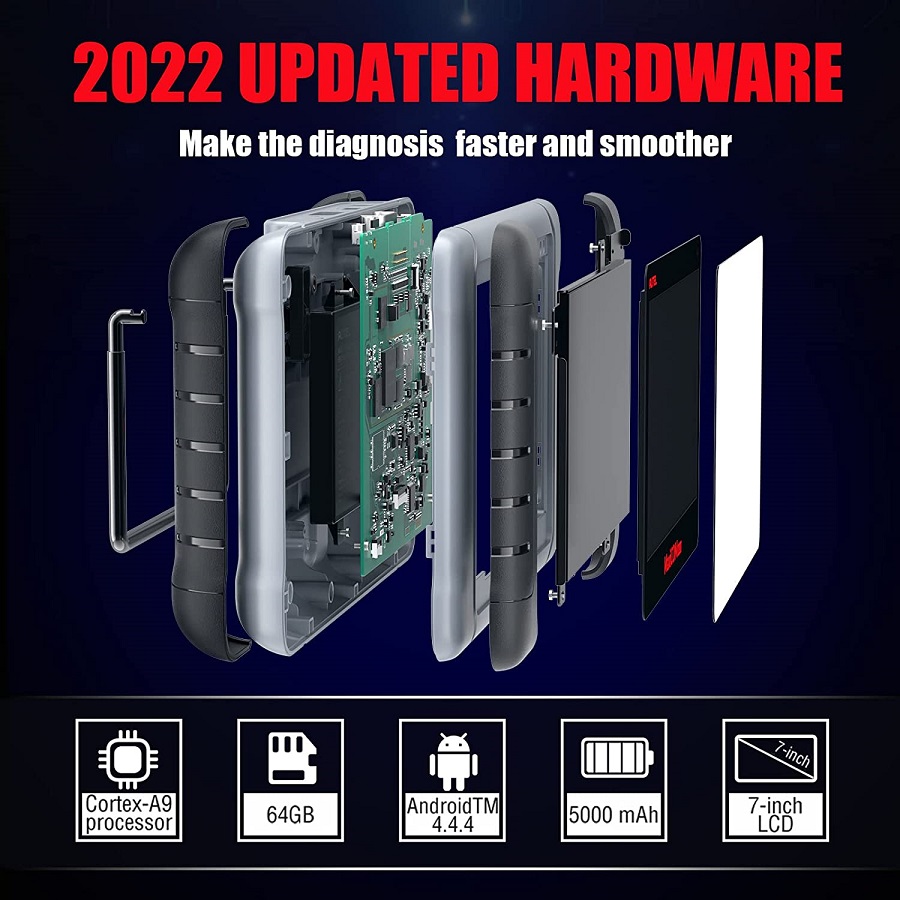 Package Includes:
1pc x USB External Power Adapter
1pc x User Manual
1pc x Quick Reference Guide
1pc x Main cable
1pc x Carry case
1pc x Mini USB Cable
---
Customer Service:
Mrs.Bella
Email: sales@obd16shop.com
Whatsapp:+8615271813909
Skype: eobd11

About Shipping Way
1.DHL Shipping: 5-7 working days. With DHL shipping, we will declare lowervalue on invoice for customers to help customs clearrance .If customer have special requirements on declaring, please contact salesman on order page, online chat,email, skype or whatsapp. Usually we can reply in 24 hours on workingg days.
2.Yanwen express: 7-10 working days.We usually ship orders by Yanwen to European countries like German,Greece,Romania,Sweden,France,etc.By yanwen express, customer dont need to pay for tax. Tax is pre-paid. If customer needs faster shipping, please contact salesman.
3.US, UK, EU shipping directly fast and no tax : 3-5 working days.We have stocked up hot sale items in US, UK, EU Warehouse ,which is more convenient for you. Free TAX, faster shipping with cheaper price.
Click and check items in US Warehosue UK Warehouse

About Cancellation Policy
1.You can get a full refund if you make cancellation within 24hours. Because usually we will ship out package within 24 hours, for get full refund, please send us a cancellation note via order center or email.
2.If your cancellation made after 24 hours, please contact our customer service first, you can easily get touch with our customer service via email or any online contact method like skype, whatsapp or online chat. If customer service confirm your order have not been ship out, you can get a full refund
3. If your order has been proceed but have not get out of China(including Hongkong area), you can still cancel our order but you have to pay for the cancellation fee.(Detail fee please consult customer service for your order)
4. If the order already out of China, the order can not be canceled. If you want cancel it, you need send it back after you receive the package and you will need to undertaken the return fee.