Product Description
XTOOL X100 Pro OBD2 Auto Key Programmer/Mileage Adjustment with EEPROM Adapter 
XTOOL X100 Pro OBD2 Auto Key Programmer/Mileage Adjustment with EEPROM Adapter
X-100 Pro Auto Key Programmer is a hand-held device for programming keys in immobilizer units on vehicles.
This scan tool has a simple and robust design, to make your vehicle service experience much easier!
Features:
1.New keys programming
2.Read keys from immobilizer memory
3.New immobilizer programming
4.New ECU programming
5.New mechanical key number programming
6.Vehicle Identification Number programming
7.Reset ECM & Reset Immobilizer
8.Easy to operate by guiding menu programming
9.New remote controller programming
10.With full and strong database for the most important vehicle makes
11.Upgrade via web-based download
Vehicle Coverage:
Region
Function
Immobilizer
Odometer Adjustment
Asia
Toyota; Honda; Acura; Mazda; Lexus; Mazda; Nissan; Infiniti; Mitsubishi; Subaru; Suzuki; KIA; Hyundai; SSANGYONG; QNLUTUS; Mitsuoka
Hyundai; Infiniti; Isuzu; KIA;
Mazda; Mitzubishi; Nissan; Proton; SSANGYONG; Subaru;
Suzuki
Europe
Audi; VW; Skoda; Seat; Porsche; Opel; Citroen; Peugeot; Jaguar; Land Rover; Renault; Benz; Ferrari; Fiat; Maserati; MG; Smart; DS
Audi; Bentley; Benz; Citroen; Ferrari; Fiat; Jaguar; Land Rover; Maserati; Peugeot; Porsche; Renault; Seat; Skoda; Smart; Volvo;VW
America
Lincoln; GM; Chrysler; Ford
Buick; Cadillac; Chrysler; Ford/Lincoln; GMC; Hummer; Oldsmobile; Opel; Pontiac; Saturn
China
Changan; Changfeng;Changhe; Chery; Brilliance; BYD; Huapu; JAC; Lifan; GreatWall; HNMAZDA; Lufeng; Roewe; SQYL; ZZNISSAN; Luxgen; Geely; Hongqi; Hawtai; Besturn; Baic; Baojun; Dffengshen; Dfliuzhou; Betpurn
Besturn; Geely; Greatwall; MG Roewe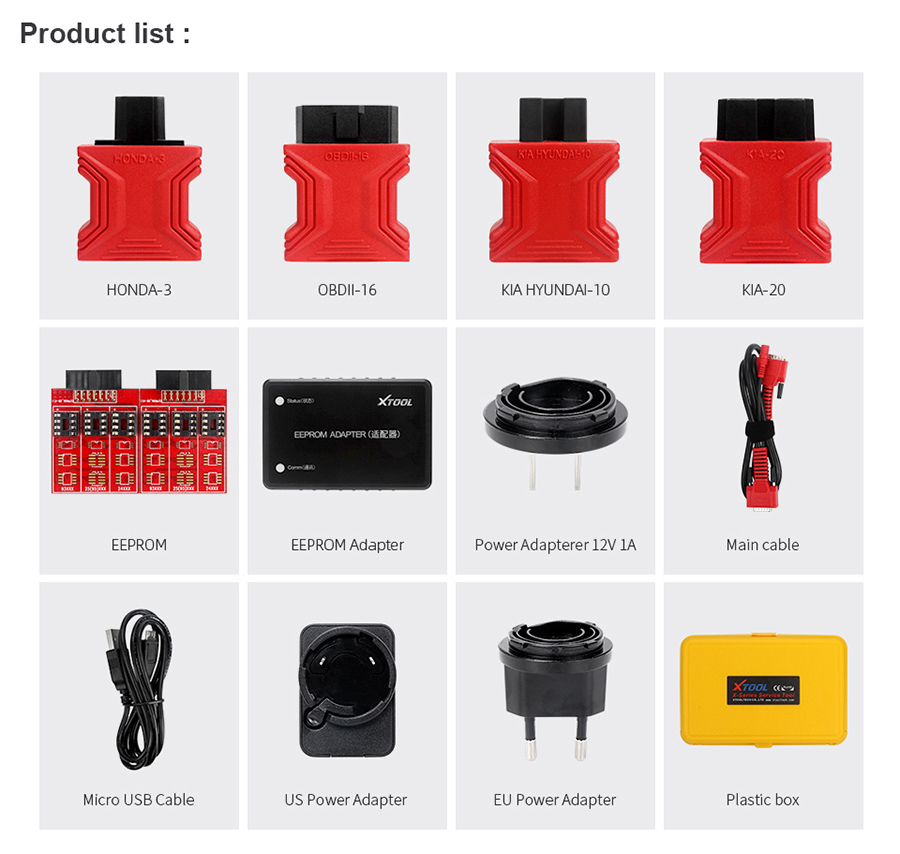 Package includes:
1PC x HONDA-3
1PC x OBDII-16
1PC x KIA HYUNDAI-10
1PC x KIA-20
1PC x EEPROM
1PC x EEPROM Adapter
1PC x Power Adapter 12V 1A
1PC x Main Cable
1PC x Micro USB Cable
1PC x US Power Adapter
1PC x EU Power Adapter
1PC x Plastic Box
Any questions, Please contact me freely.
WhatsApp:+ 86-15377698251
Live Support:
Chat with us online
Email: Sales@CarKeyDeals.com
Skype:
sales@CarKeyDeals.com